Health Assessing Software
Maximise productivity – Increase engagement – Reduce admin
WellTech offer a range of solutions designed to streamline the patient assessing process from online booking, advance personal data collection via our pre-assessment intake form, personal reports without medical jargon and collated aggregated data, all designed to maximise productivity, increase engagement and reduce admin time.
Used by Health Clubs, Personal Trainers, Wellbeing Companies, Pharmacies and Occupational Health.
Welltech Solutions Health Assessing Portal
Our easy to use, online health assessment platform produces amazing patient reports in minutes which can be emailed directly with supplementary fact sheets and referral details. Health assessment results use a traffic light system all measured against UK guidelines and normative values, you can also track changes/improvements using comparisons across multiple assessments.
Our reports looks sleek and professional click here to see example and are already used to conduct over 30,000 assessments per year. They take minutes to compile and can be emailed directly to your patient.
Results are displayed using a traffic light system of green, amber and red and all results are measured against UK guidelines/normative values which is how the different risk categories have been determined.
Reports can be emailed directly to your patient with fact sheets, referral information ( if required) and next steps.
Data is hosted securely on the AWS system which supports 85 security standards and compliance certifications. Read more about information security and GDPR here
Key Features
Produce personalised and branded reports produced in minutes
Report on key health risks BP, Hydration, RHR, Body Fat, Cholesterol, HDL, Blood Glucose

Full test protocol list here

Lifestyle Profile including Personal Medical History, Family History , Alcohol, Diet, Activity, Sleep and more

Full lifestyle questions here

QRISK Cardiovascular Risk Assessment built in
Heart Age and dynamic risk calculator
Easy Signposting and referral management
Track changes/improvements using comparisons across multiple assessments
Quick aggregated Reports for Company Analysis
Our organisation reporting software allows you to analyse collective company health data through a series of easy to produce aggregated reports that are available instantly. Monitor and manage referrals and organisational trends and track overall health improvements with year on year results comparisons
Read about our Company Data Statistical Analysis here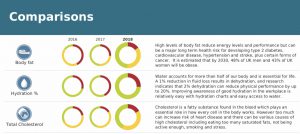 Working Smart – Pre-Assessment Software (intake form for lifestyle and medical questions)
Our pre-assessment system allows you to work smart and collect personal client data in advance saving huge amounts of time whilst increasing the quality of information collected.
Collect personal, family medical history and lifestyle information such as alcohol consumption , smoking habits and more. Full list here
It can be used independently by sending a link to your client or used in conjunction with our booking system allowing savings on staff costs by reducing considerable amounts of administration by advance data collection.
Collects the following lifestyle data;
Personal details ( name, dob and e

thnicity

)
Personal medical history
Family history
Smoking and e-cigarettes
Alcohol consumption in units and binge drinking
Dietary habits – sugar, fat , portions of fruit and veg, hydration
Activity
Exercise aerobic duration and strength/resistance/weight training duration
Sleep quality and hours
Stress and work demands
Sedentary behaviour
Online Booking System
Our booking system is simple and easy to use- you can add new events in under 5 minutes and employees can book their own appointments in under 30 seconds. Schedule 24, 48 hour email reminders, SMS confirmations and icalender invites. Clients can amend bookings themselves and the system can be fully branded. You can upload your own pre-assessment guidelines so your client comes prepared avoiding food and drink for the required time.
Key Features
Book appointments in 30 seconds
Considerably increases uptake and reduces no shows
Tailored communications
Email confirmation and reminders ( 24 and 48 hour reminders)
SMS confirmation
Calendar invitations (outlook and icalendar)
Doubles up as a 'Register interest' facility
Easy to use- set up new events in minutes
Branded with your logo's
Produces pre- event, post and live data reports
Software Training And More
We offer a range of training courses which cover our software including our popular Cholesterol, Glucose and CVD using the CardioChek day. It can be run onsite or why not join us at our head office in Leamington spa on our scheduled courses.
Health Assessing Equipment
From Blood Pressure to cholesterol units we have it covered! We offer a range of clinically validated equipment used by medical and health professionals, ideal for anyone who carries out checks or related testing. Tried and tested equipment from leading brands such as CardioChek and Tanita.
Free Trial
Our 30-day free trial allows full access to the system (including our booking system, pre-assessment questionnaire, health assessing software and company health reporting) to sign up please fill in your details on our enquiry form.
Dedicated UK Support
We offer UK support for our software and have top class trainers who can come onsite to train your staff. You can also just call us with any questions as we love a chat!
Want to know more ? Give us a call 0800 130 33 70 or email info@welltechsolution